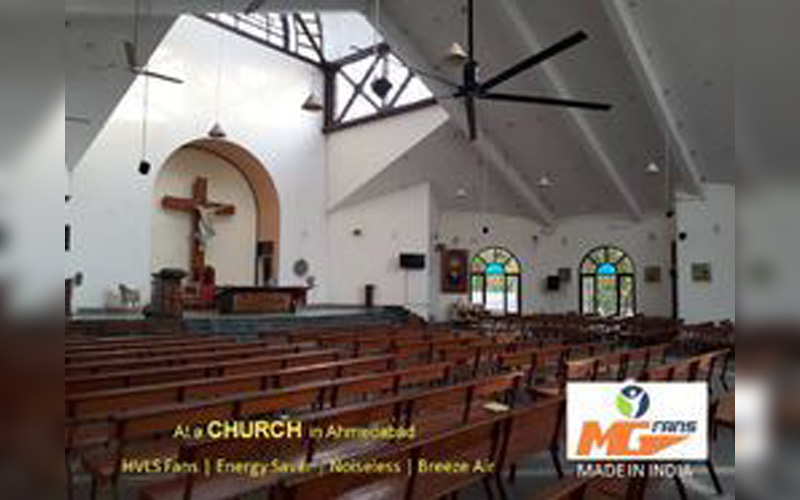 Companies and organizations that need high volume low-speed fans in India always end up choosing us. This happens because of the reputation we have made for ourselves in the market. Manufacturing and supplying top-quality fans is our priority and that's exactly what we do. M.G Engineers is one of the most reliable High Volume Low Speed Fan Manufacturers In Ahmedabad. Our Large Ceiling Fan come at an extremely affordable price without compromising the overall quality. These fans work on the simple principle that efficiency is improved significantly if the process of moving the air is slow rather than fast and the name of the product reflects exactly that principle.
Reasons To Invest In Our High Volume Low Speed Fans:
Precise Performance - You'll be surprised with the precision with which these fans move the air in a place. Air will be directed to the targeted place depending on the installation.
Smooth Flow - The thing about slow moving air is that the flow always remains smooth. The result is a comfortable and noiseless air flow.
Comforting - Unlike other big fans available in the market, our Big Ceiling Fan are actually comforting. They maintain the preferable temperature effortlessly.
High Volume Low Speed Fan – Better Design For Proper Ventilation
High Volume Low Speed Fan is designed to maintain good air quality by ensuring proper ventilation. It helps to fight against temperature battles and increase the comfort and productivity of employees. Maintaining uniform temperature and maintaining good air quality with High Volume Low Speed Fans is not a task.
However, to take advantage of this modern solution, you need to pick the right model that fits space in the right manner, so it can circulate air without creating moisture content. Using High Volume Low Speed Fan not just improves ventilation but also eliminates condensation build-up, and provides heat destratification, which ensures great saving in the long-run.
It has now become the need of the hour and if you are interested to buy High Volume Low Speed Fan in Ahmedabad, India, we are here to help.
With an experience of a decade, we've become one of the dependable High Volume Low Speed Fans Exporters and Suppliers In India. So, if you want a reliable HVLS Fan, give us a call right now.
Why Us For High Volume Low Speed Fans?
Noted among the best High Volume Low Speed Fan Manufacturers, we have the best quality at industry-leading prices to cater to your distinct demands. There are many companies out there serving the best, and we have our reasons for you to trust us. Get to know a few of them that we have mentioned here and decide.
Offer advanced and innovative solutions.
Use only industry-approved materials and methods.
Customize the models according to your preferences.
Prices are competitive to fit your stipulated budget.
Provide the delivery without any possible delays.
So, without any delays, get in touch to buy High Volume Low Speed Fan with us now.